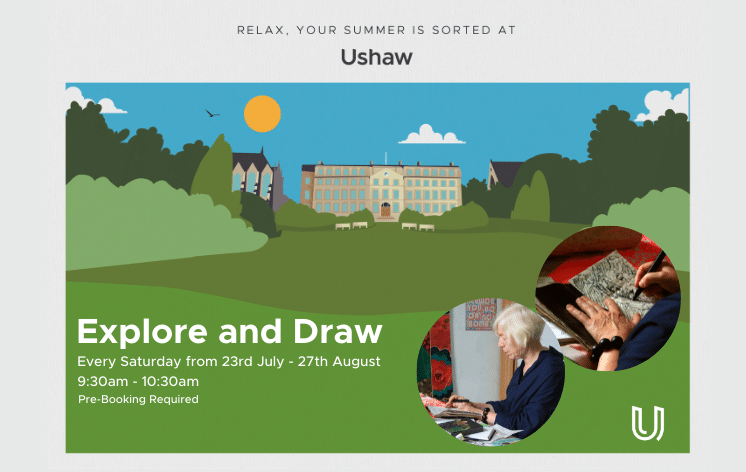 Explore and Draw at Ushaw
Saturdays are for creativity inspired by a beautiful setting. Artist Betty Brown will lead you to inspirational parts of Ushaw and guide you to progress your drawing skills whether you are just starting out or experienced.
"Drawing is at the core of my practice. It is an amazing process and the best way to engage visually with your surroundings. What better way to experience the beauty of Ushaw Historic House, Chapels and Gardens?"
Trained at Chelsea and Camberwell Schools of Art, Betty Brown is one of Ushaw's resident artists, and will take you drawing round Ushaw's well-known interiors and landscapes (and some of the less well-known ones too!)
Betty has an enthusiastic hands-on, "can-do" approach and through a series of enjoyable and accessible exercises will help you discover and develop your talent for drawing, at the same time as getting to know Ushaw better.
Anyone who wants to draw is welcome.
You will get:
⦁ Access to Ushaw, including some areas not open to the general public
⦁ Tuition from an experienced artist and tutor
⦁ All materials provided
⦁ An hour's intense drawing and exploration of Ushaw Historic House, Chapels and Gardens
Suitable for ages 14 +, multiple booking options available.
Discover everything happening at Ushaw this Summer here